Yonex Vcore 95 V7 2023
The seventh generation VCORE is a masterpiece of technology and craft. The evolution of this iconic racquet combines undeniably precise spin and remarkable control, creating a true work of art. New technology and structure combine with innovation to increase string snapback and movement, giving players access to the most spin in Yonex tennis history. Yes, it has even more RPMs than the previous model*, producing trajectories your opponent has never seen before. *Compared to the 6th-generation VCORE. Tested by Yonex.
Technologies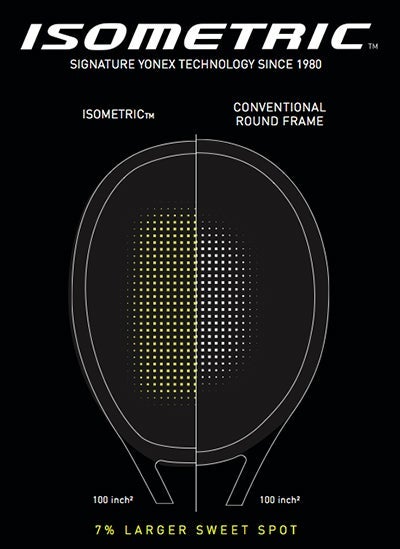 ISOMETRIC
7% LARGER SWEET SPOT
Developed over 30 years ago, the ISOMETRIC™ design increases the sweet spot by 7%*.
Compared to a conventional round frame, a square-shaped ISOMETRIC™ racquet generates a larger sweet spot by optimizing the intersection of the main and cross strings.
ISOMETRIC™ technology delivers greater control without sacrificing power.
Aero Fin Technology
Improved Maneuvering
Aerodynamic fins that were featured in the VCORE SV have also been upgraded and positioned towards the bottom of the VCORE's frame. The new Aero Fins are strategically carved out sections that allow for improved maneuverability.
Aero Trench
Reduced Drag
To achieve faster head speeds for increased spin potential, the new Aero Trench reduces drag by uniquely hiding the grommets located at the top of the racquet frame.
LINER TECH
For Maximum Spin Potential
Newly engineered straight hole grommets allow more string movement on off-centered shots.
String Sync Grommets
FOR BALL BITE AND SPIN
A thin grommet nozzle is inserted into a larger frame hole allowing the string to move together with the grommet for faster snapback.